I'm upgrading my 70SX 1500 gearbox from a bottom change to a UT top change gearbox (my bottom changer is starting to sound like a cement mixer!) I now have most of the parts apart from the following:
Most important - the linkage that connects the two swivel joints together and to the gear lever rod, on the steering rack linkage bracket. I already have the complete bracket assembly minus this one part. See circled red part in picture for what I need. If no-one has the linkage on its own, I will consider buying a complete bracket/ linkage assembly.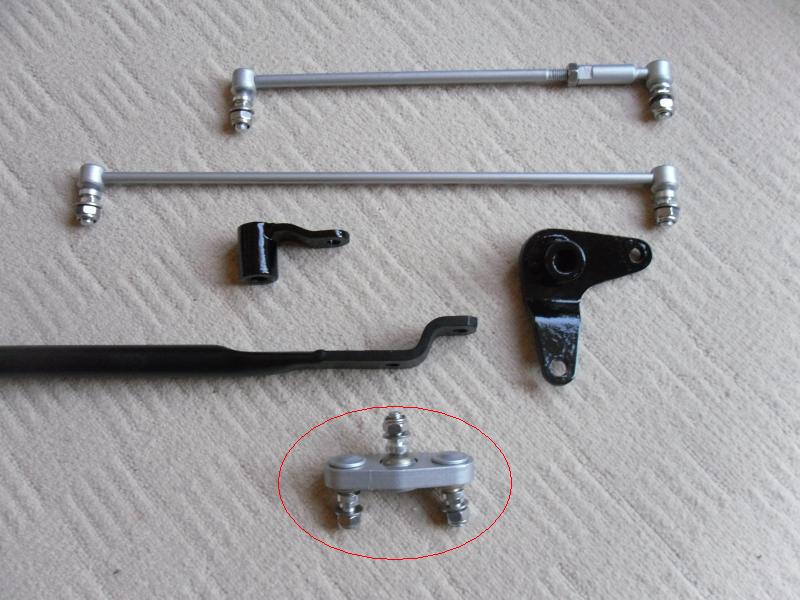 I also need the correct centre consoles (my 70SX has the bottom change gear lever console). I think the air vent/ stereo/ heater control console is also different to the bottom changer version? If so, I need this along with the top change gear lever console. and also the gear rod cover that fits at the back of the console to hide the gear rod.
Can anyone help?
Cheers!
Oh yes, I also need those little load spreader plates for the drive shaft to inner hub bolts. There's three plates per joint, and they take 2 x bolts each. Anyone know where I can get these from, along with the correct Allen bolts?
Drive shaft bolts and plates no problem. Send address I'll pop them in the post
Hey that picture looks familiar...
5th gear





Posts

: 314


Join date

: 2013-01-29


Age

: 41


Location

: Peterborough



Charlie, PM sent. Let me know how much you want for them. Cheers mate!
jas_racing - yup, that's your pic! I hope I can get it as clean as yours looks!
BTW, does no-one have any of the other parts I am seeking?

the part circled i have one you can have
Over boosting





Posts

: 539


Join date

: 2013-03-01


Age

: 33


Location

: west mids



Thank you so much Charlie, much appreciated!
charliemk1 wrote:In the post
Spreader plates and bolts arrived today. Thanks again Charlie, you're a star!

---
Permissions in this forum:
You
cannot
reply to topics in this forum